LIVE IN PERSON
Here you can watch the incredible show Jerry performed in Paris in 1971

In Windows Media Video 40 minutes of a legendary performance
JERRY LEWIS
LIVE AT THE OLYMPIA
IN PARIS
---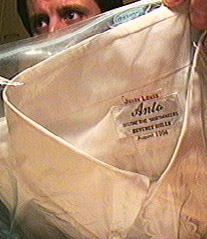 (In my hands the original t-shirt used by Jerry on stage during a live show!)
In 1956, Martin and Lewis performed their last show together at the Copacabana. Both were still under contract to Paramount and at the time of this review,
Jerry Lewis had two solo films under his belt. He also scored a surprise top forty hit by covering Al Jolson's "Rock a Bye, My Baby" on Decca records.

Read the review by Robert W. Dana - September 10, 1957

Jerry Lewis Stars Alone at Ben Maksiks's
---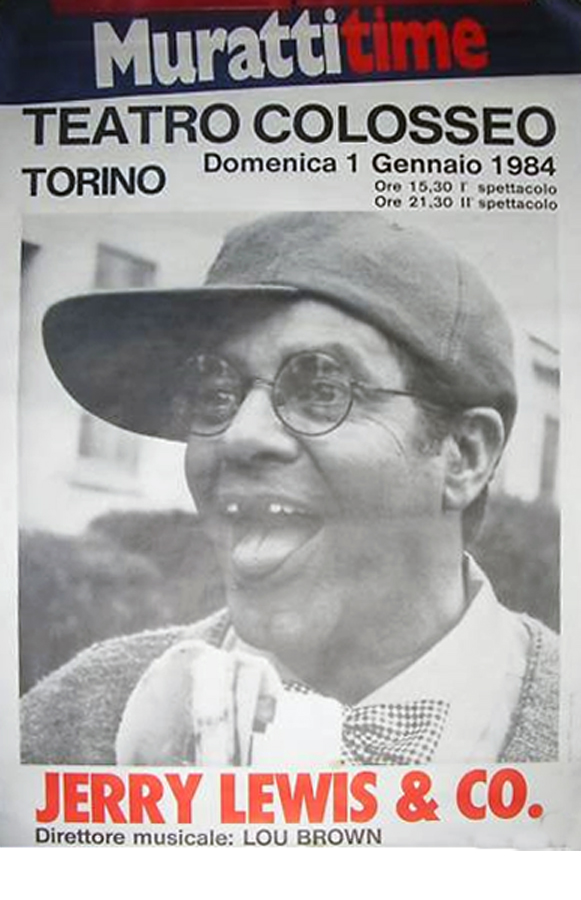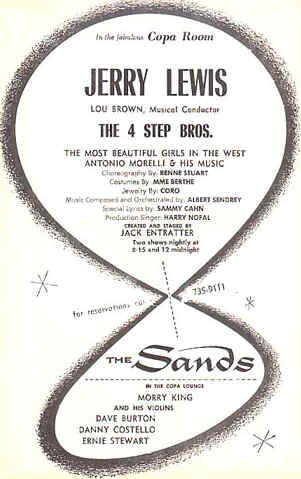 ---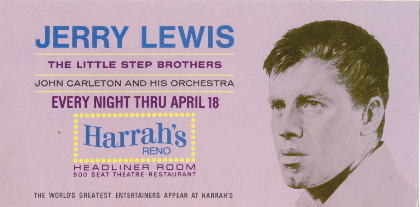 How a fan describes a Jerry's live show!
We were thrilled (surprised even) to find Jerry the master in excellent form!
It was especially exciting to see that his timing was superb. Was it Jerry (or Steve Martin?) who once demonstrated on the Tonight Show that the "Secret of Comedy" was Timing? Jerry has not lost a bit of his timing. I've heard this is what finally caused George Burns to stop performing, even while his health was still okay.
The show was lean, fast-paced, and left us wanting more. I cannot think of a single extra word that should have been cut. Jerry never gets credit for his economy.
Some Details--
Some background information first. Where I quote Jerry here, I'm only paraphrasing from memory. I didn't tape the show.
The space was a standard proscenium stage, with 2 enormous "jumbotron" monitors on either side of the proscenium wall. The monitors had a constant live picture of Jerry for those who were far from the action. (We sat at table 53, section L2.)
Somebody asked in an earlier posting which company runs this casino. Answer: the gamblers' buckets all said "Harrah's" on them.
As others have described previously, the show is a fast-paced 2 hours of jokes, music, video clips, and clowning.
I'd like to define a term. With the word "clowning" I refer to the undescribeable magic that is commonly called "gags," "bits," "schtick," or "routines." I dislike these terms because they seem disparaging, and make comedy sound trivial and easy, instead of sacred and precious and precise. By contrast, a "joke" is a funny story with a set-up and a punch line, like: didja hear the one about the priest and the rabbi...
Jerry's jokes seemed to be a structural base that the other elements of the show were placed around. These were regular joke-jokes. I tend to think of Jerry more as a clown/physical comedian than a raconteur, but he worked the room beautifully (and, of course, without profanity).
If a joke wasn't big, Jerry always had a rebound, like explaining it in great detail to a lady in the front row.
Speaking of jokes, late in the show Jerry did the joke-telling routine where he tosses the white-tipped canes and tells a joke till he catches one. (I remember that from previous shows and the interlude in Damn Yankees.) But let's get back to the beginning:
I had to laugh twice at Jerry's opening line: "Thank you ladies and gentlemen. It's very nice to be with you here tonight in--[beat, checks inside of coat]--Soaring Eagle Casino." [laugh] "Soaring Eagle? How about Dilapidated Pidgeon?"
First I laughed because it was so well executed, fresh, and just plain funny. And second, because I remember so clearly the "coat check" is the same way he opened the show when I first saw him in 1977 (78?) at the Star Theatre in Flint, Michigan. (He then followed with "Why'd they call it Flint? Cuz they didn't wanna call it Sylvia.") The "coat bit" still gets a laugh after all these years, and if it ain't broke, don't fix it.
Jerry joked about the hugeness of the auditorium (which has a high, ugly, unfinished ceiling of exposed pipes and girders), saying he was told it was an intimate space, but in reality it looks like a dirigible factory.
Jerry untied his bow-tie only minutes after the show started. He was sweating profusely from the heat of the lights, and breathing hard from the exertion. But he never seemed less than happy to be out there working.
"I'm sorry the taped introduction was played before the overture. That was a mistake. You have to understand we only had four months to prepare."
For me one of the highlights of the show is Jerry's interactions with his audience, of which there were many, all of them hilarious. This is why you have to see a live performance--the suspense here is just electric. These moments don't really translate to print, but I'll list some anyway.
My favorite came maybe ten minutes into the show when a couple of front-row late-comers were seated. Jerry gave them a withering, super-fast rewind of everything they'd missed. Believe me, it was great. The audience went nuts.
Somewhere I'd seen Jerry do this one before: he says to an audience member, "Hello. Are you in show business? No? Then get your hand off the stage!"
A girl interupted the show to give Jerry flowers. He says, "You know these'll be dead in 2 days? Hey, I'm in room 729."
Another one I loved, much later, involved borrowing a guy's handkerchief to do a magic trick. The guy's name was Kermit and Jerry had a lot of fun with him before destroying the handkerchief!
Still later, Jerry set us up perfectly by praising a woman for smiling throughout the show, explaining how helpful it is to have a friendly face to play to. He offered the woman a flower, and we all applauded the moment for being so warm-and-fuzzy, but we'd been had--he left her with just the stem and kept the blossom!
One of the few times Jerry spoke seriously was his tribute-monologue to Dean, Sammy and Frank. I was impressed that it was so lovely and understated. (Maybe I've been conditioned by the telethons to expect longer speeches.) There wasn't even any accompanying video. It was just perfect. As Jerry's the last survivor, it's almost as though we the audience want, need, and expect some words about the other, departed giants.
Later in the show Jerry told one favorite joke each from Dean and Frank's repertoire, and a funny story about Sammy converting to Judaism.
Permit me to describe the musical portion of the evening.
But first, back up. For the ninety minute drive to Mt Pleasant from Flint, I had dutifully brought along my CD of "Jerry Lewis Just Sings" to get us in the proper mood. This is a CD I haven't played in a long time and I forgot how great the songs, arrangements and Jerry are. Anyway, we played it about one and a half times through.
I should have guessed that when we entered the theatre (after dinner in the casino buffet and a good 45 minutes before showtime), the "house music" would be the very same CD. (They even played track 17, the "Rock-a-Bye False Starts.") We were definitely ready for some live entertainment by the time Lee Mortimer came out!
It was an orchestra of about 25, complete with strings. This was the casino's "house" musicians, except, apparently, conductor/pianist Lee Mortimer, and the drummer whose name I didn't catch.
They opened the show with Jerry's overture, which is "Smile," "What the World Needs Now," and "Rock-a-Bye."
The first song with Jerry was a fast, jazzy version of "That Old Black Magic." (You remember that one from Nutty Professor.) Lots of fun.
As far as Jerry's voice is concerned, he sounded fine. Or better. In a live venue, this seems to be less of an issue than with tv. The arrangments are mostly upbeat and well-chosen to fit Jerry's style and range. I don't remember a clunker all night.
Jerry made a brief, lovely statement about Al Jolson before doing a rousing Jolson Medley. I've seen this medley on the telethon, but it never gets old. It's great that Jerry keeps the grand old songs out there in circulation. (More on that later.)
My favorite musical moment may have been "I've Got You Under My Skin." Jerry explained how Sinatra gave him the arrangement for concert use. (It's that same great Nelson Riddle arrangement that's been so often called a breakthrough for Frank and American pop music in general.)
I missed what was apparently a serious ballad. I had to use the rest room (!) and heard the end but didn't recognize it. It came right after Jerry read a tribute to some audience members' birthdays and anniversaries. Maybe somebody else can elaborate on that one. I'm curious, as what I heard sounded lovely.
A jazzy "Rhapsody in Blue" was infused with some silliness--a pseudo bathroom break and some thrown cymbals!
"For Once in My Life" was a surprise. Touching, and definitely a highlight.
I wanted more music. I was hoping to hear the Basie version of "I Can't Stop Loving You," but it didn't happen.
Jerry was effusive with praise for the musicians at the end, telling us they'd rehearsed only once, earlier in the day. I thought they did a fine job, myself.
A few words about the video clips.
Here again--great choices, nothing too long or too short. If anything, we wanted more and more. Actually, maybe Jerry *should* use some more clips. We don't want him getting so winded.
I didn't even recognize the very first video clip. Here's a very young, super skinny black & white Jerry in boxer shorts, shirtless, leading a row of men in some marching-type leg exercises. They won't stop, no matter what Jerry does. This looked like a kinescope of an old, live tv show.
Cut to a couple scenes from Nutty Professor. The first sight of Julius Kelp brought a big, appreciative ovation from the audience. Wanna know which scenes? Oh, all right: Tip-toeing down the hall in socks that squeak loudly. Cut to the gym. Julius admires a weight-lifter, drops the barbell, his arms stretch to six feet. Cut to Julius in bed with arms at the end of the bed, scratching his foot. The crowd went nuts and Jerry remarked that it's gratifying that the work has held up over the years.
I don't remember what order these various other segments came in:
There was a base of hardcore fans in our audience, and they recognized and applauded from the very first frame (as did I) what I call the "Chairman of the Board" clip. You know the one: Jerry with cigar, at conference table, barks orders musically to imaginary staff.
Jerry said, "This next segment we call simply--Heart" before surprising us with the 1976 telethon Dean Martin reunion clip. This one still packs a punch on the big screen, even though it's familiar.
Another segment had 3 funny pieces of telethon. These were also familiar to me--I taped them a couple telethons ago at 4am when they ran a precious "Best of" segment. They were (1) Totie Fields, 1975. Remember that gravelly voice? She can't get on the stool, etcetera. Wonderful. (2) Teasing a young Decca check presenter. (3) Clowning with the Tall Cedars Men's Choir. My sister just about died and went to heaven during this one. She was really screaming.
My favorite moments of the show are what I tried to describe before as simply clowning, for example...
Jerry staggers like a drunk--"Same drunk, during an earthquake"--Jerry struts perfectly.
Jerry has trumpet and music is building toward his big solo. Anticipation. He holds the trumpet to his mouth and smashes into the mic stand. He staggers and spits out an entire mouthful of teeth!
Jerry as nine-year-old Norman sucks a sucker and says a funny monologue. The sucker ends up in his eye and nose.
Jerry brings out a folding chair. Some hardcore fans knew immediately what this meant (not me). "Typewriter!" they yelled. I was glad Jerry did this live instead of running a clip.
A few thoughts in conclusion--
This show should've sold out in one day. Nobody does it like Jerry, and there's only one Jerry. At the risk of sounding like an old fart, good entertainment is not going to be easily found on the television. Especially comedy. Modern sitcoms are virtually unwatchable. It's more than worth it to actually get up and go to see a show like this one.
I remember thinking about the many casually dressed gamblers who knew nothing about the night's show: How can these people be here and not see Jerry's show? Don't they know what they're missing?
I suggest that all who are able should plan a trip to Las Vegas to see Jerry there. Plan now and save money. You'll have a great time.
My sister agreed with me that after Jerry's show, the audience was rejuvenated, charged up, and in a wonderful, happy mood. Jerry had somehow inspired everybody. There's no other way to explain it. He seemed driven to please, and at his curtain call, smiling and happy with the result, I thought. I hope I was right.
Seeing the show with my family was also emotional in a way that I would like to explain. My father is 69, just a few months from 70. He has been a lifelong fan of Al Jolson. We don't get to spend of lot of time together and don't share a lot of common interests. So I got a little choked up for us to be able to enjoy, together, Jerry's wonderful show, and of course the music of Jolson being brought to life by Jerry. Personally, I'm a Sinatra fan, so there was even an extra thrill there for me when Jerry did "Under My Skin."
The three of us who attended the show together--my father and sister and I--had all felt under the weather that day. Colds, earaches, and more. You don't want to know. I'm particularly glad we all toughed it out and went to the show. I'll always cherish the memory of our trip.
And I marvel that we have done it before, 20-some years ago, when I was a teenager. That was when I first saw Jerry here in Flint in 77 or 78. Dad generously got the tickets for me, 'cause even then I was a Jerry fan. With seven kids to think about, that was very kind of him.
Just for the record, I was also able to see Jerry in Las Vegas in 86 or 87. And in the late 90s in Detroit with Damn Yankees.
So I'm 39 years old (a few short months from the big 4-Oh), and blessed to have seen Jerry live-in-person once each decade since the 70s. Okay--I regret not being around for the 40s, 50s, and 60s, but it's hard when you're unborn or in elementary school!
One last story. A funny thing happened on the way home from the show. I had an oldies radio station turned on in the car (WHNN). Just as we neared our house, they played the original Dionne Warwick version of "What the World Needs Now." Weird, huh?
Thanks for reading all the way to end! I'm happy to have made these notes for you all, because, as I learned the other night, I need them. My memories of the earlier shows I saw have eroded and I want to remember how much I enjoyed Jerry's show.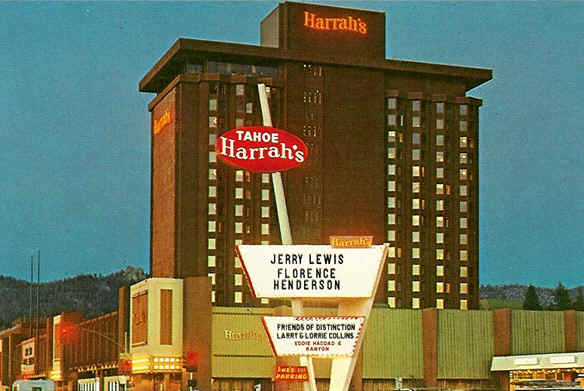 ---
THE MUSICALS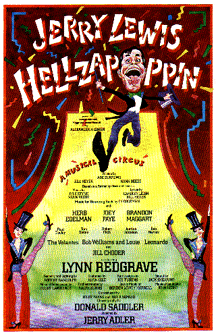 The fiasco!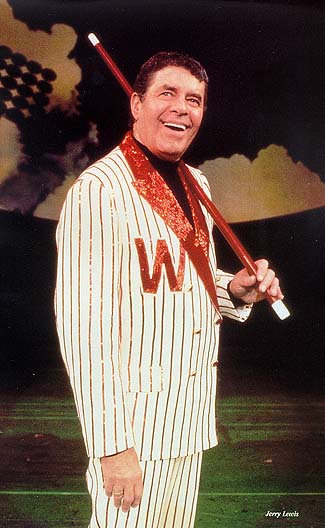 Jerry stars in the Broadway show "Damn Yankees". The hit!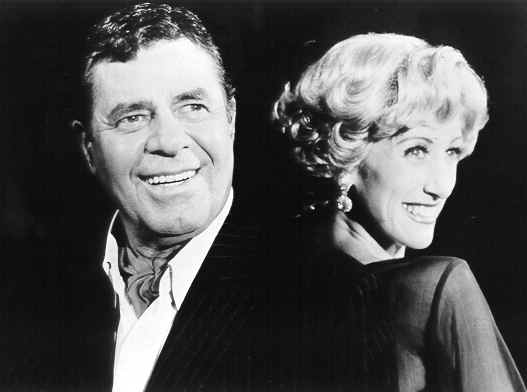 Mr. Applegate and Lola from Damn Yankees.
---

Jerrylewis.tk is an unofficial, non-profit, Jerry Lewis website
and is in no way connected with Mr. Lewis, Jerry Lewis Films, Paramount Pictures or any other such organisations.
It's sole purpose is to educate visitors about the love for Jerry Lewis and his work.
All original content is Copyright © 1999 - 2010 by Jerrylewis.tk. All Rights Reserved.
Other content is Copyright © its respective owners.